If you think about it, your iPad or iPhone is the perfect street performer companion. Guitarists, you've got loads of amps and effect pedals on your phone with JamUp Pro XT – and a Audiobus to stream your guitar into a looper like Loopy HD (both highly recommended apps). If you're a keyboardist, you've got unlimited sound possibilities from all of the synthesizer and sampler apps like BeatMaker 2 and Magellan, all on a super portable device you can take with you anywhere. There's no need to bring expensive keyboards or amps, all of the sound can come from your iOS device, and your gear (amplifiers aside - solution) can be powered by your iOS device – even with your iPhone! Here's a guide to the some apps and gear you can use to start perform with your iOS device on the go!
Note: On iOS 7, you can connect USB gear to your iPhone via the Lightning USB adapter OR with the iPad Camera Connection Kit + Lightning -> 30 pin adapter. If you have an iPhone with a 30 pin port, you can directly connect the iPad CCK as well. See this tread on the iOS Musician Forum to see what gear readers have successfully/unsuccessfully connected to their iPhones without needing a powered USB hub.
Gear
The Roland Cube street is a battery powered (6 x AA, maximum 15-hour continuous use) portable amplifier ideal for the job. It has dual-channel architecture with guitar/instrument and microphone/line inputs, and a stereo aux in for plugging in an iOS device.
Portable, iOS Device Powered Keyboards
This is a pretty large sized keyboard that can be powered by just your iPhone or iPad. A 61 key version is also available but I do not own one so I can not confirm (can you?) that it works with out a powered USB hub. Anyway, thanks to MIDI Learn, you could connect MIDI controllers and assign knobs inside your synth apps to the knobs on your controller to improvise with. If you play guitar too, loop your guitar and tweak a synth over it.
iPad Stands
If you need to use your iPad while you're performing, an iPhone/iPad stand might not be a bad idea:
iPad – Tablet Adjustable Stand
Talent iCLaw Mic or Music Stand Holder for iPad
Pocket Lab Works iRiffPort Guitar Interface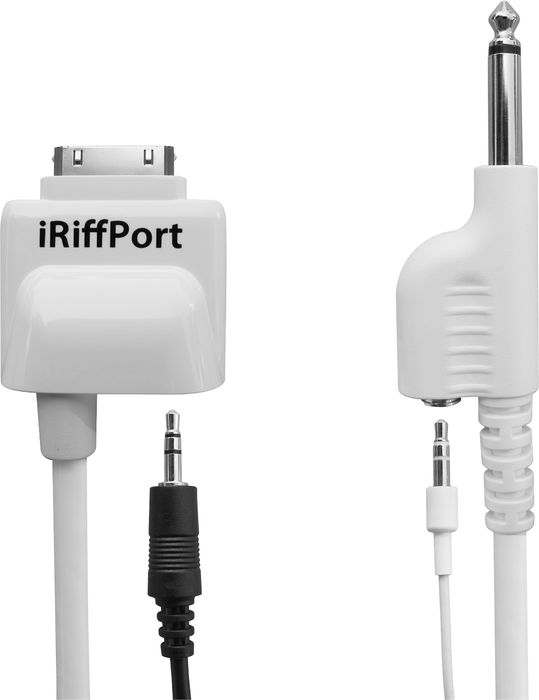 I recommend this guitar interface over others because it has an attached guitar cable – one less piece of gear to cary around. Also: the iRiffPort also has an extra headphone output on the end that plugs into your guitar which is GREAT for practicing with headphones on as you don't need to constantly be hunch over your iPad.
IK Multimedia BlueBoard / AirTurn BT-105 / BT-104
These Bluetooth pedal boards are great. Especially for street performers – no wires. You can assign the pedals to control different things in Loopy and JamUp via MIDI. If you already have a MIDI din pedal board, check out the iRig Pro. It's a audio (guitar + XLR) and MIDI din interface for iPhone, iPad, and Mac. Your MIDI controller may require an external power source, nothing a portable power supply can't fix.
iPad Camera Connection Kit / Thunderbolt > USB Adapter
Keyboardists, connect USB MIDI keyboards or MIDI Din gear via USB DIN adapters. If you'd like to connect a MIDI controller as well as a guitar, check out check out the iRig MIDI Interface from IK Multimedia
. With it you can connect a MIDI DIN controller as well as a guitar/XLR input. Ideal for connecting a MIDI foot pedal board to control your guitar guitar effects / a looper app…..
Apps
First of all, JamUp has the best tone available on iOS. No questions asked. You can assign it's amps and FX to the pedals on the AirTurn / BlueBoard / Core MIDI compatible pedal board.
If your pedalboard has an expression pedal, you can assign it to the output volume, wah pedal, and pitch shifter FX. You can also switch presets, control JamUps built in tempo clock, sampler, and music player (from the built in music app):
If you're looking to loop your guitar in your performance look no further than Loopy HD (review). Paired with Audiobus, you can stream your guitar into Loopy and improvise over your recorded loops. Clock synth Loopy with a drum machine app like Funkbox and now you've got drums, too. Loop some guitars and have a jam session over a drum beat!
You can also assign the pedals on the AirTurn to control Loopy for hands free control over the app…
Street Performing Tips
Street Performing is all about location and having a clever act, if you're in the right place at the right time doing something that makes your audience smile, like, say, looping your guitar and sequencing drumbeats all on your iPad to improvise / sing over, your audience will practically throw money at you. Another great thing you can do is talk to other performers to see where/when they've had/haven't had success. Good luck!